With post-pandemic challenges driving significant shifts in the way companies operate, the hybrid work model has been recognised as the next big disruption in the business landscape as organisations weigh up the complexities of allowing their employees to split their time between home and the office. While remote working is increasing in popularity among many business leaders, with one survey from Gartner revealing that 74% of the organisations surveyed plan to shift some employees to remote work permanently, others, such as Dollar Shave Club co-founder Michael Dubin, are sceptical about the ability of work from home arrangements to foster vital elements such as creativity and team chemistry.
Hybrid models have the potential to transform business and teams for the better, but finding the right balance between in-person and remote work is vital to capture the most value from this structure.
If your organisation has embraced the hybrid workplace or is considering doing so in the future, the following advice will help you leverage this model to get the most out of your people.
Find the Right Hybrid Structure for Your Business
The hybrid model can take a variety of forms depending on the needs of the organisation, and leaders are faced with the challenge of helping employees handle the competing demands of their work and personal lives. Employers are utilising many different approaches to managing their hybrid teams, but increasingly we are seeing businesses bringing people back into the office to some extent.
One example of how employers are doing this is by "bookending" – bringing the team into the office each Monday and Friday to meet in person and re-align their priorities. On Monday they will set up their goals and objectives for the week, and on Friday they will discuss what has gone well, what hasn't gone well and what they need to focus on. Some teams may choose to have a midweek get together (either in person or virtually) to connect and update each other on the progress of key tasks.
Another option to consider is having all team members work from home on the same day each week. This helps to maintain cultural vitality and ensure that socialisation is occurring for team bonding when the team is together. Additionally, many employers are finding that employees prefer to have one, maximum two days working from home, as this allows them to separate the sanctity of their personal space from their professional lives.
​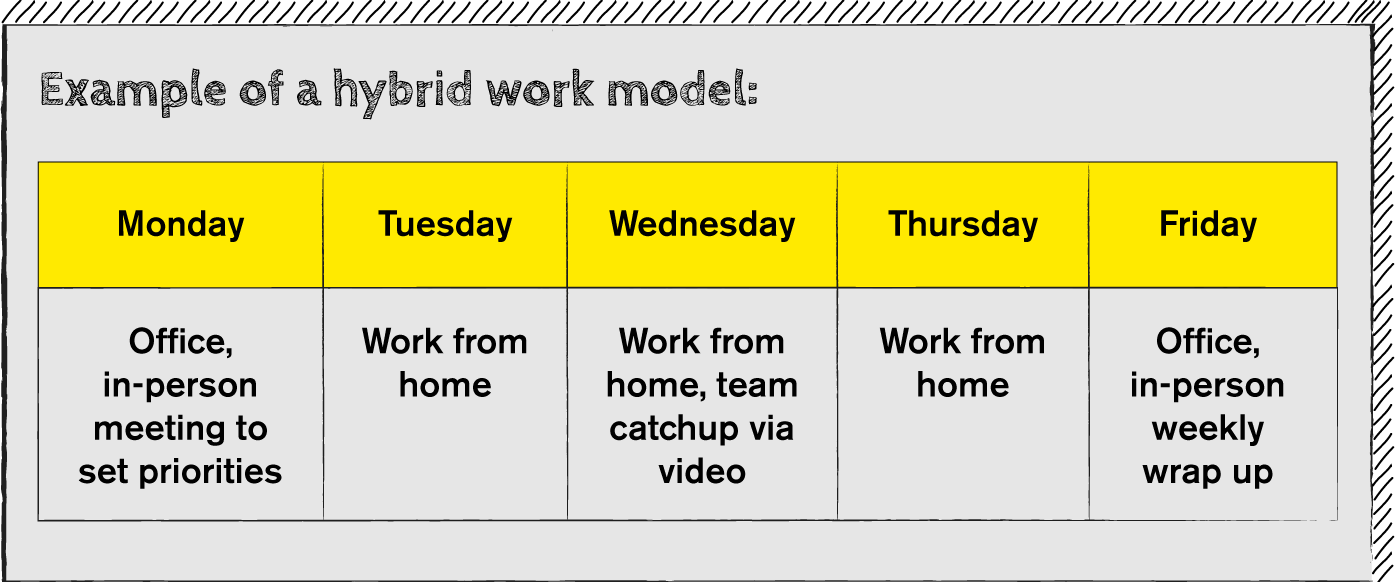 ​
When considering what kind of hybrid structure to implement in your team, we recommend reflecting on the type of environment and level of flexibility that your people perform best in, how a hybrid model might affect your culture, and whether you have (or can invest in) the technology to support effective collaboration. It's also essential to identify whether you need to have a certain number of people in the office at any given time to avoid disrupting key operations and client engagement, what that ratio will be, as well as the proportion of the week that people should work at home vs in-person.
However you decide to allocate your team's remote and office-based time, the key is to ensure in-person meetings are regular, consistent and intentional so that people can stay connected and focused, despite not being together all the time.
Ensure You Have the Technology to Facilitate a Hybrid Model
The only way for organisations to fully embrace the future of work and thrive in this hybrid environment is by having the right technology in place to facilitate the emerging hybrid workplace. When teams are more geographically dispersed, software- and cloud-powered tools play a vital role in maintaining seamless business operations by enabling collaboration and communication with colleagues and clients, as well as providing remote access to company data.
Consider whether you have (or can invest in) the technology to support hybrid working by conducting a review of your business needs and assessing key factors such as security, compliance and usability. Most companies will already have at least their basic communication and collaboration tools on the cloud, but you may need to invest further in software for remote working, automation team collaboration and remote storage systems.
If not already doing so, you may want to utilise project management tools such as Teamwork, Asana or Trello and time tracking tools such as Toggle and Time Doctor to make it easier to organise, assign, track and manage tasks, as well as communication tools such as Microsoft Teams, Slack and Zoom. However, it's important to ensure that any technology you adopt is strategically chosen to enhance productivity, rather than fuel burnout.
Additional considerations include:
Having the appropriate security for distributed work

Offering extended user training and support

Adapting the policies and approaches that underpin work processes

Providing the right equipment/supporting employee-supplied equipment to enable people to access these tools from home
Determine How to Measure Performance and Keep People Accountable
A key aspect of utilising the hybrid model successfully is communicating the parameters and expectations around remote work to your employees. It's important to both show that you trust your people to get work done from home and clearly establish what you expect from them in terms of hours and deliverables.
Where there is a higher level of flexibility, having people share their calendars with the rest of the team ensures everyone knows who is working when and where, and building in regular progress meetings (whether virtual or in-person as we mentioned above) can help to keep people accountable.
​

​
When it comes to assessing performance, we recommend measuring productivity by output rather than input and using goal setting to objectively track progress. Depending on the nature of your business and your internal culture, you may consider integrating a combination of the following tips for managing hybrid teams:
Rather than hours at desks, look at quality, objectives and outcomes to analyse performance, and use fact-based measures to ensure all team members can be evaluated by the same standards.

Depending on the size and structure of your business, consider allowing managers to report on and rebalance employees' workloads as they see fit, or, if the team is smaller, empower people to report on their own workloads and progress.

Focus on coaching and supporting rather than monitoring employees' performance, using self-evaluations, peer feedback and long-term results to gain a full picture and ensure people stay on track.

In addition to individual performance targets, also set shared goals (with associated rewards) to keep the team working cohesively.
Consider How You Will Maintain Your Culture
Ideally, the company culture would be consistent whether the team is based in the office, remotely or a hybrid of the two, however extra steps are often necessary to maintain it when people work from home some of the time.
Regular feedback and communication are essential for maintaining an effective culture and must be deliberately sought when in-person interactions are limited. One-on-one catchups, anonymous surveys and external feedback through sites such as Glassdoor or Officevibe can be used to supplement any in-person meeting held throughout the week to ensure your hybrid team functions within a conducive working environment. Where meetings take place via video, it's a good idea to ask those attending in-person to dial in on their devices as well. By developing a solid rhythm with communications, you can avoid information silos and ensure everyone feels included, no matter where they are working.
Keep in mind that hybrid teams often have less opportunity for casual interactions, so you will need to actively find ways to maintain strong relationships between co-workers when they are not in the office. Digital communications tools such as Slack and MS Teams enable employees to keep in touch with their colleagues in real-time and have instant access to any updates. The goal is to find ways for people to stay connected and sustain a positive culture that will allow you to continue getting the best out of your hybrid team.
​

​
​​
Re-evaluate the Way You Build Your Team
In a hybrid world, organisations that foster the right skill sets and team dynamic will be the best equipped to prosper, stay competitive and adapt to the changing landscape. Having access to the right talent will be central to supporting a hybrid model and keeping it sustainable for the long term, so when hiring for hybrid teams and developing current employees, you must focus on certain skills that allow people to thrive in a distributed environment.
While technical and hard skills will always be valuable, soft skills such as adaptability, communication, empathy, resilience, creativity, collaboration and a focus on results are the keys to successfully navigating changing routines and distributed co-workers. Leaders will need to model ways of working that nurture these skills and empower employees to do the same. When it comes to finding people with the qualities and expertise to expand your hybrid team, working with a specialist recruiter will help you make strategic hires and secure top-tier talent that will help you stay ahead in the market.
Summary
Ultimately, a well-managed and supported hybrid workplace can provide greater flexibility to both a business and its employees, create an exceptional workplace, promote greater collaboration and creativity, and win the way on talent.
For more advice or support with finding the best people for your hybrid team, reach out to our team of local recruitment specialists throughout New Zealand today.