Kia Ora Koutou

, Greetings, Talofa Lava, Kia Orana, Mālō e lelei, Ni sa bula vinaka, Fakaalofa lahi atu, Mālō ni!
At Beyond Recruitment, we know that diversity, equity, and inclusion matter above all else. We support equal opportunity for all and are committed to ensuring
Aotearoa
, New Zealand's diverse communities receive equivalent social and economic benefits.
Our own whānau is proudly diverse and guided by our Beyond Recruitment's core values: Respect, Honesty, Flexibility, Mahi Tahi, and Working to Benefit Aotearoa, New Zealand.
We do the mahi to benefit the rich and diverse talent in Aotearoa. New Zealand, recognising that companies with a diverse workforce perform better and, in doing so, contribute to the improvement of all diverse communities in Aotearoa. New Zealand.
We are authentically committed to living, breathing and celebrating diversity, equity, and inclusion daily, by:
Continuing to build a diverse team and being an employer of choice through our commitment to supporting Diversity, Equity, and Inclusion across gender, ethnicity, sexuality, culture and disability

Signing the Neurodiversity Manifesto, demonstrating our commitment to working towards a society that recognises the value of neurocognitive differences.

Partnering with employers who support Diversity, Equity, and Inclusion across gender, ethnicity, sexuality, culture and disability

Supporting diverse charities such as Para Kore, which provides education through wānanga that supports groups, whānau and communities to design out and reduce their waste

Hosting annual webinars focused on diversity, equity, and inclusion with leadership coach, business commentator and author Dr Harold Hillman

Uplifting the voices of women in leadership through our initiatives to profile female leaders and create awareness of the benefits of diversity in leadership with our clients through our blog series
Beyond Recruitment supports businesses in the private and public sector on the employment and inclusion of Māori and Pasifika talent. We endorse the Human Rights Act, and we partner with Diversity Works NZ.
We are a diverse group ourselves and we love what we do. We work hard to support the diversity of the job seekers we represent, the clients we serve and the broader communities across Aotearoa and we are proud to have been named as finalists for Outstanding Progress in Diversity, Equity & Inclusion in the SEEK Annual Recruitment Awards (SARAs) 2023.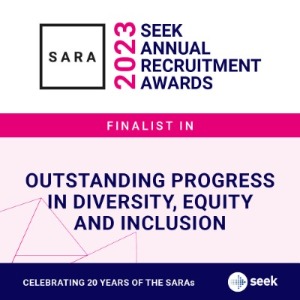 ​
Neurodiversity in the Workplace
One aspect that has been receiving increasing attention within the DE&I conversation over the past 5 to 10 years is Neurodiversity. This concept centers around recognising the natural diversity in human neurological development, encompassing conditions such as Autism Spectrum Disorder, ADHD, Dyslexia, and more.
Embracing neurodiversity goes beyond inclusivity; it harnesses diverse talent and perspectives to drive innovation and business success. As a recruitment agency, we're raising awareness through internal discussions, starting with education. Our goal at Beyond Recruitment is to champion neurodivergent inclusion, recognising its benefits within our own organisation, for our clients, and in our daily work with candidates.
Many major private sector firms and government agencies have established Neurodiversity Committees. Both public and private sectors are actively exploring whether their recruitment processes are inclusive, allowing all individuals to showcase their potential contributions to an organisation. Our aspiration is to actively engage in this conversation or at the very least stay well-informed, which enhances our understanding and commitment.
Diverse Perspectives: Neurodivergent individuals often offer unique viewpoints and problem-solving skills, leading to innovative solutions that benefit our clients.

Increased Productivity: Research shows that neurodivergent employees often exhibit high levels of focus and attention to detail, translating into enhanced efficiency and productivity, especially in tasks requiring precision and accuracy.

Enhanced Team Dynamics: Championing an inclusive workplace cultivates acceptance and collaboration, leading to improved team dynamics and higher employee morale.
To learn more and get involved, please visit: www.neurodiversitymanifesto.org
We are proudly local and actively committed to doing the mahi to support diversity, equity, and inclusion, equal opportunity for all, and promoting the career prospects of Māori/Pasifika in Aotearoa.
At Beyond Recruitment, we are dedicated to benefiting Aotearoa New Zealand and its people, and love getting involved in charities that support our local communities, particularly the Māori and Pasifika communities. Click the links below to learn more about some of the fantastic organisations we support:
Partnerships
We partner with KOTRA, please click on the link to find out more.
Resources
​

​
​