​New Zealand's labour market is constantly evolving as economic factors, business needs and talent supply influence the demand for certain skill sets and candidates. In the Finance sector, specifically, the market is growing steadily, with data from Stats NZ revealing that there were around 65,500 filled jobs in the March quarter of 2022, up from 56,600 in March 2019. So where are we seeing movement in Finance right now, and what trends are currently shaping the industry?
Below, Beyond Recruitment's Accounting, Finance & Financial Services team from across the country break down their key observations to help you stay well-informed and competitive, whether you are looking for a role or want to grow your team.
The Evolving Demands in the Finance Job Market
The Finance market has changed a lot over the last 5-10 years, with new technologies and the shifting business landscape leading to the demand for different skills and role types. Automation has taken over much of the transactional processes, and many tasks that would have taken a full day to complete now happen at the push of a button. Consequently, a different set of skills is now required for Finance roles, regardless of level.
Key attributes employers are looking for in Finance candidates:
Soft skills over teachable technical skills

Tech-savvy – Experience with reporting tools like Power BI and large FMIS systems (e.g. Oracle, TechOne)

Excellent communication skills and the ability to easily translate financial jargon to accommodate stakeholders

Innovation and the ability to automate transactional processes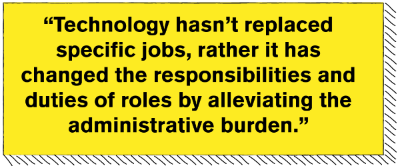 The good news is that technology hasn't replaced specific jobs, rather it has changed the responsibilities and duties of roles by alleviating the administrative burden and making reporting more accurate. For example, rather than spending time scanning invoices, Accountants have taken a more advisory-based role, allowing them to serve as a business partner rather than just a BAU transactional processer.
For those who need to upskill in order to adapt to the changes in the Finance profession, a number of options are available, including CA qualifications, technology training on tools such as Power BI and leadership courses.
Key Trends Shaping the Public and Private Finance Sectors
Public vs. Private
While there are some similarities between the public and private Finance sectors in New Zealand, there are some distinctions that shape the roles within each space. The skills and experience gained from both sectors are transferable, however, the goals of both industries are different, with the public sector, particularly in Wellington, focusing more on spending and specific political agendas, and the private sector focusing on reducing expenses and increasing productivity, revenue and net profit.
Auckland differs from Wellington in that the speed to market in the private sector far surpasses the public sector. This means that candidates are being lost to other roles, as the process is lengthy in the public sector, and the salary banding is often too low for market conditions.
Meanwhile, public sector employers in the regions are still demanding exact qualifications for roles and are not prepared to look at transferable skills. As a result, the roles are staying vacant, and the pressure is put on the current team to deliver more and more in terms of responsibilities.​
Relocation and hybrid working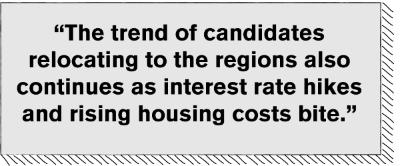 Across the private sector, organisations are looking at how they can be creative with the limited talent pool at their disposal. Many clients are becoming more location agnostic, securing resource from other regions and the main cities with the opportunity to work remotely, especially across contract roles. The trend of candidates relocating to the regions also continues as interest rate hikes and rising housing costs bite, and many regional organisations are looking to the main centres to secure candidates who are willing to relocate for stable roles.
When it comes to hybrid working, Wellington employers across both the commercial and government sectors are very flexible on working from home arrangements. In Auckland, however, there is some disconnect, with candidates sometimes asking for more working from home more days than an employer is wanting to provide.
Nevertheless, hybrid working is now widely accepted by both candidates and employers for the majority of roles, and finding the right balance between remote and the office comes down to the unique circumstances of the role and negotiation.
Find Out More
If you'd like to discuss any of the above trends in more detail or find out how we can support you with your hiring or Finance job searching needs, please reach out to our nationwide team of Accounting, Finance & Financial Services recruitment specialists today. ​