​The past 12 months have largely been a period of economic recovery, with New Zealand on the whole faring better amid the pandemic than many of its global peers. However, businesses are now facing another major headwind that is having just as big an impact – a talent shortage. In our latest webinar, our CE, Liza Viz, introduced the Beyond Recruitment Economic and Labour Report 2021/22 supported by in-depth commentary from Economist Shamubeel Eaqub on the current state of the economy, the ongoing impact of COVID-19 and the trends shaping the New Zealand labour market.
Below is a summary of the key takeaways from the session to help you pave a path to success both within the pandemic and beyond it.
Lingering Disruptions
We have learned so much as individuals, businesses and as a community since COVID-19 first hit, and a lot has improved since those initial few months. However, it's important to keep in mind that disruptions will not go away any time soon, so we need to start planning for what happens next.
Key Takeaways:
In the early days of the pandemic, we had some hope that the vaccination would allow us to return to normal. However, with the rise of new variants, many countries outside the developed world remaining unvaccinated and the discovery that immunity fades over time, it's become clear that disruptions are going to continue for some time.

Rather than going back to normal, most countries with high vaccination rates are still running an ongoing restricted lifestyle.

While we shouldn't expect things to return to the way they were before the pandemic, that doesn't mean the economy will be dire – the effective response from the government, organisations and individuals means New Zealand is in a relatively good position.

A key area of disruption we will continue to see is in manufacturing and supply chains. While there has been a rebound since the initial onset of COVID-19, significant gaps remain, with the lack of inventory driving up prices and meaning that people are no longer able to purchase the goods they want, when they want them.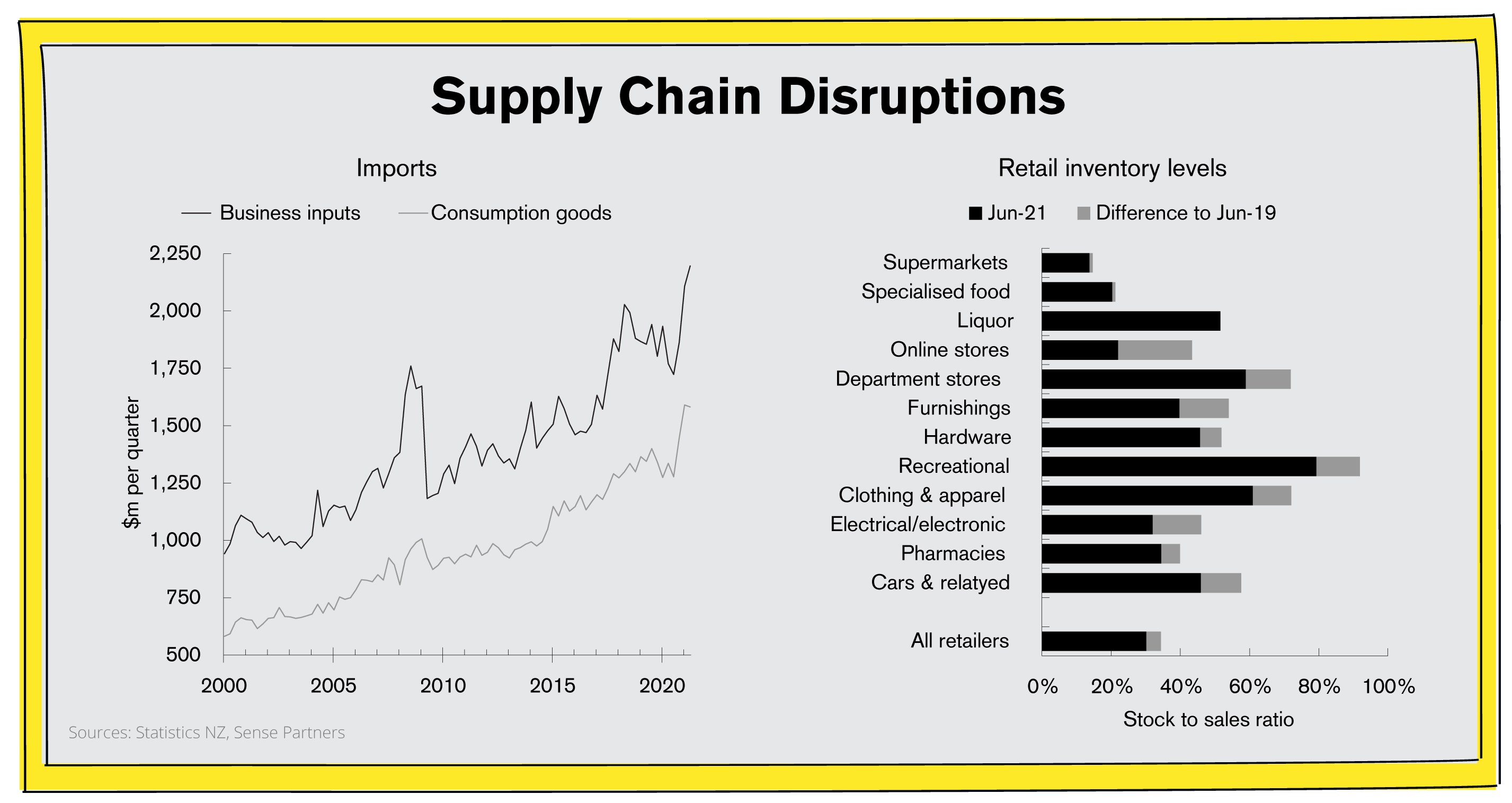 The Economic Outlook
The extraordinary amount of fiscal stimulus the government has injected into our economy is the biggest reason for New Zealand's economic resilience, and many businesses and jobs were preserved because of support such as wage subsidies. As the pandemic continues to have roll-on effects over the next 1-2 years, we will likely see this continue.
However, the stimulus we saw from Reserve Bank actually worsened existing problems and was largely misspent – most of it went to buying second-hand houses, but lending to businesses and farms fell. Businesses by and large have been cautious about taking on debt, but households have been borrowing large amounts for mortgages. This has brought a number of economic trends and consequences to the forefront.
Key Takeaways:
House prices have gone up by around 30% in the last 18 months. Houses cost more than five times the average household income in many areas of the country, making it increasingly difficult for non-homeowners to find affordable places to live.

Despite worries that the government has borrowed a lot of money during this period, the debt is not enough to cause alarm. The extremely low interest rates mean the government can easily afford to keep borrowing to provide further support should the need arise.

While there is talk that interest rates must rise in order to negate inflation spikes and wage increases, this inflation is not yet at a level where we should be concerned.

High household debt means that even small increases in interest rates will have huge effects on affordability, but decreases will not make much of a difference. As a result, the Reserve Bank has become impotent in managing an economic crash.

Moving forward, policy will play a much bigger role in economic management, with the government becoming a lot more interventionist in its approach.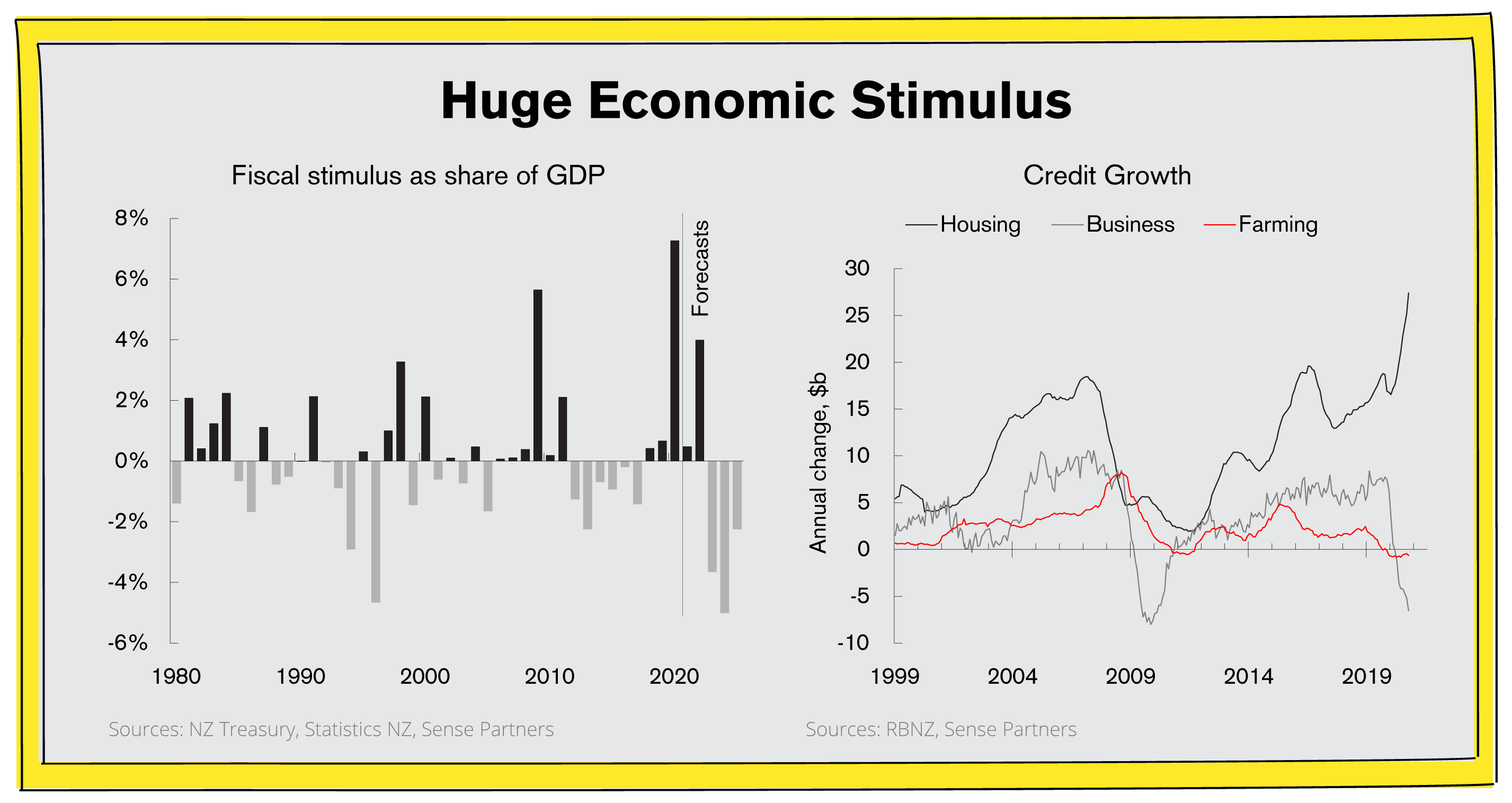 Intensifying Labour Shortages
It is safe to assume that the New Zealand economy is going to continue to rebound after the pandemic, and for businesses to take advantage of this, they will need to have more people and more capital at their disposal. However, finding talent is becoming extremely difficult in the current market, with the demand for skilled candidates significantly outstripping supply.
Key Takeaways:
The migrant workforce has declined to almost nothing in the last 12 months. The number of people who are here on work visas is trending down and the anticipated "Brain Gain" did not eventuate, meaning our pool of available talent is shrinking.

The demand for labour has skyrocketed, with much of it coming from the provinces and traditional sectors such as manufacturing, logistics and real estate.

We should expect New Zealand's previously more open immigration policy to flip, with very few people coming in the future, so employers must be prepared for the labour shortage to worsen.

An increased focus on contracts and temps, training, hiring for potential, retention and long-term workforce planning will be crucial for businesses to continue accessing the talent they need.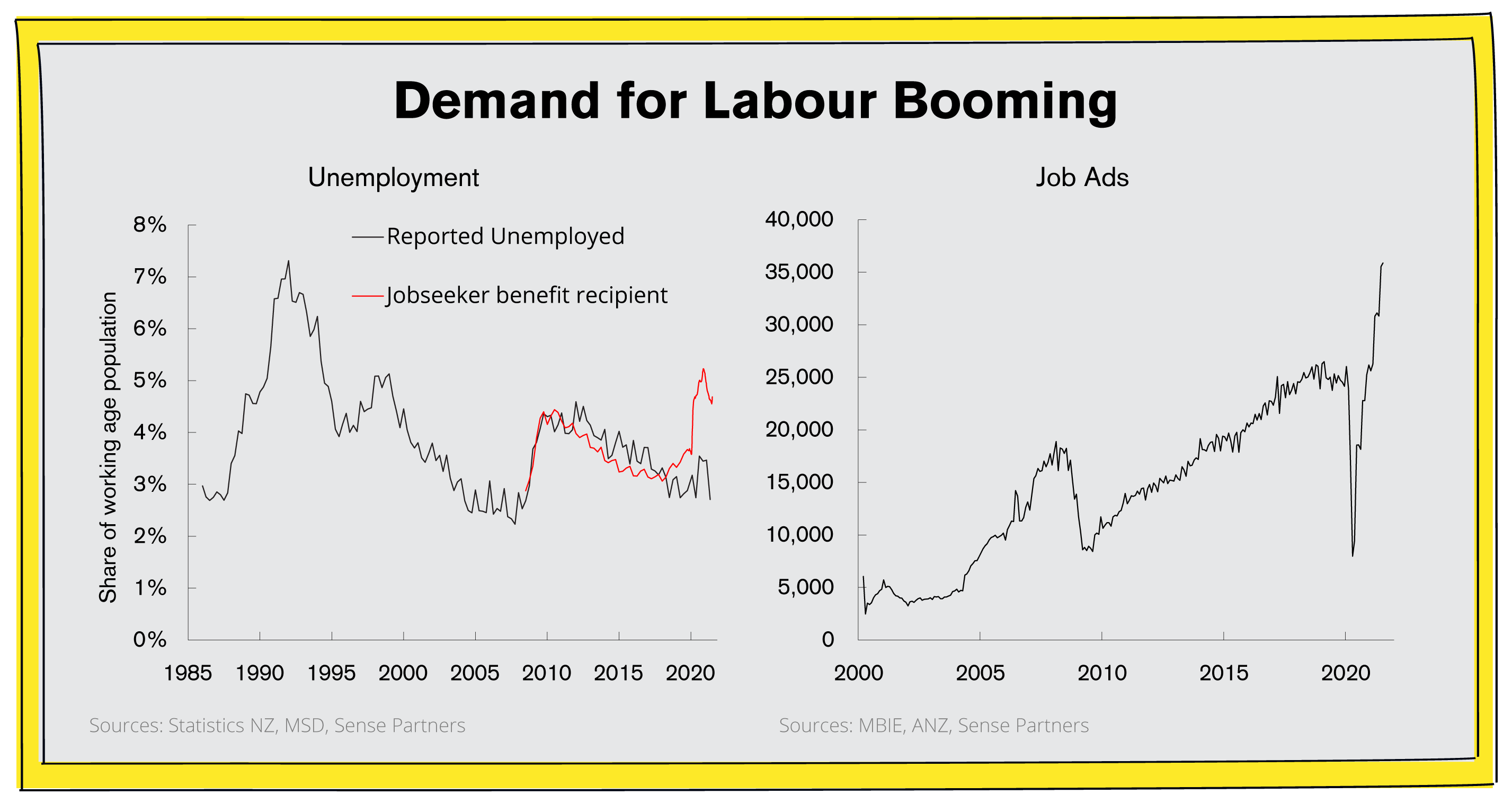 Summary
This is just a glimpse of what was covered in the webinar – we encourage you to click below and view the recording and presentation slides to get a full picture of the economic insights.
​
​
For a comprehensive look into how New Zealand businesses are adjusting to the current talent shortages, as well as the notable trends around salaries/rates within specific industries and occupations, click the button below to download your exclusive copy of our Beyond Recruitment Economic & Labour Report 2021/22.

​
If you have any questions regarding the webinar or report, or would like to find out how we can support you and your business during this time, please don't hesitate to reach out.